CPD eArticles
To access NHD CPD eArticles simply click on the links below.
To sponsor a CPD eArticle contact Richard now on 01342 824073; or email richard@networkhealthgroup.co.uk for further information.
---
Vol.7.11 June 2017
The use of glycomacropeptide as an alternative protein source for PKU
by Paula Hallam, Registered Dietitian
Vol. 7.10 June 2017
Parenteral Nutrition:a dietitian's role
by Bernadette Tavner Allsopp, Advanced Dietitian, Acute Team Lead Stoke Mandeville Hospital
Vol 7.09 May 2017
Nutrition support for childhood oncology
by Evelyn Ward, Senior Specialist Children's Oncology/Haematology Dietitian, Leeds Children's Hospital
Vol 7.08 May 2017
Paediatric coeliac disease and the gluten-free diet
by Kate Roberts RD Freelance Dietitian
Vol 7.07 April 2017
Paediatric food allergy: a guide for the non-specialist dietitian
by Kathryn Cockerell, Paediatric Dietitian, Dorset County Hospital
Vol 7.06 April 2017
Managing malnutrition in care homes
by Helen Willis, Registered Dietitian,
Vol 7.05 April 2017
Bariatric surgery, nutrition and the challenges of long-term follow-up within the NHS
by Mary O'Kane Consultant Dietitian, Leeds Teaching Hospitals NHS
Vol 7.04 March 2017
Lactose intolerance
by Maeve Hanan, RD, City Hospitals Sunderland NHS
Vol 7.03 February 2017
Coeliac disease and bone health
by Ali Hutton, Dietitian, Vitaflo
Vol 7.02 February 2017
Nutritional treatment in chronic kidney disease
by Melanie Steinmair Company Nutritionist, Dr Schär AG/Spa, Italy
Vol 7.01 January 2017
Chronic obstructrive pulmonary disease and the obsese patient
by Anne Wright, Registered Dietitian
Vol 6.21: December 15th 2016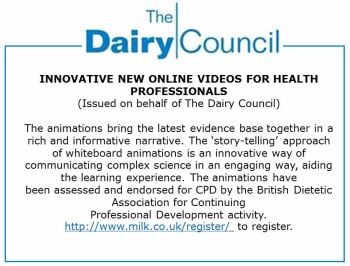 Overview of probiotics and their impact on health and nutrition
by Kate Roberts, Registered Dietitian
Vol 6.20 December 8th 2016
Counselling theories and obesity management
by Claire Chaudhry, Community NHS Dietitian/Private Sports Dietitian BCUHB/Claire Sports Nutrition Consultancy

Vol 6.19: November 24th 2016
Dysphagia and motor neurone disease: a case study
by Victoria Williams, Registered Dietitian, Betsi Cadwaladr University Health Board
Vol 6.18: November 10th 2016
Iodine deficiency: the risk of restrictive diets
by Rachel Wood, Specialist Paediatric Dietitian
Vol 6.17: October 12th 2016
Specialised Infant Formula: an overview

by Rychelle Winstone, Clinical Lead Paediatric Dietitian, Hywel Dda Health Board
Vol 6.16 September 29th 2016
Prescribed ONS - because they're worth it?
by Emma Coates, NHD Editor
Vol 6.15 September 8th 2016
The Ketogenic Diet: an overview
by Ali Hutton, Registered Dietitian
Vol 6.14 August 25th 2016
by Declan O'Brien, Director General of the BSNA
Vol 6.13 July 28th 2016
Coeliac disease and the gluten-free diet
by Anne Roland Lee, EdD, RDN, LD Nutritional Services Manager, Schar USA
Vol 6.12 June 30th 2016
Infant weaning: Getting the best start
by Emma Coates, NHD Editor and Metabolic Dietitian
Vol 6.11: June 16th 2016
by Emma Coates, NHD Editor and Metabolic Dietitian
Vol 6.10: June 3rd 2016
The healthy PKUer: we all have a role to play
By Emma Coates, NHD Editor and Metabolic Dietitian, Dr Schar
Vol 6.09: May 19th 2016
Cows' milk protein allergy guidelines: is the message getting through?
Dr Rosan Meyer, Paediatric Allergy Dietitian
Vol 6.08: May 10th 2016
Dysphagia: what every dietitian must know about thickeners
Sherri Taylor RD, Eat Great Feel Great
Vol 6.07: April 21st 2016
Malnutrition in the elderly: identifying and signposting with the paperweight armband
Kirstine Farrer, Consultant Dietitian, Salford Royal NHS Foundation Trust
Vol 6.06: April 5th 2016
Parenteral Nutrition on the intensive care unit (ICU)
Dr Pete Turner, Nutritional Support Dietitian, Royal Liverpool University Hospital

Vol 6.05: March 10th 2016

Probiotics and nutrition in paediatric surgery
Dr Ashton Harper, Medical Advisor Probiotics International Ltd (Protexin)
Vol 6.04: February 25th 2016
by Dr Mabel Blades RD, PHD, MBA, DMS, MIFST, RSPH Freelance Dietitian and Nutritionist
Vol 6.03: February 11th 2016
Managing dysphagia in care homes
by Kelly Fortune, Nutritionist at apetito
Vol 6.02: February 2nd 2016
Health benefits of oils rich in omega-3, omega-6 and omega-9 fatty acids
by Michele Sadler, Registered Nutritionist, Rank Nutrition Ltd
Vol 6.01: January 14th 2016
Nutrition in the early years: the challenges faced

by Kate Harrod-Wild, Specialist Paediatric Dietitian, Betsi Cadwaladr University Health Board.

Vol 5.16: November 12th 2015
by Jacqueline Lowden, Paediatric Dietitian - Team Leader Critical Care, Therapy & Dietetics, RMCH
Vol 5.15: October 29th 2015
by Alison Smith, Prescribing Support Dietitian, Chiltern CCG and Aylesbury Vale CCG
Vol 5.14: October 8th 2015
Cows' Milk Allergy Specialist Formulae: Appropriate Prescribing
By Juliana Scapin, Paediatric Dietitian, Central London Community Healthcare NHS trust
Vol 5.13: September 10th 2015
By Paula Hallam, Dietitian Advisor, NSPKU and Sarah Ripley, Adult Metabolic Dietitian, Salford Royal NHS Foundation Trust.
Vol 5.12: August 27th 2015
Ketogenic Therapy
by Susan Wood, Specialist Dietitian, Ketogenic Therapies, Matthew's Friends Clinics and Charity
Vol 5.11: July 30th 2015
Oesophageal Atresia and weaning
By Kathryn Lowes Paediatric Dietitian Great Ormond Street Hospital for Children
Vol 5.10: July 2nd 2015
By Dr Mayur Joshi, Medical Advisor for the Human Health Care division at Probiotics International Ltd (Protexin)
Vol 5.09: June 9th 2015
By Emma Coates Company Dietitian, Dr Schar UK Mevalia Low Protein
Vol 5.08: May 21st 2015
An update on probiotic research: exploring a potential benefit for new patient groups
By Naomi Johnson and Dr Linda Thomas, Yakult UK Limited

Vol 5.07: May 12th 2015
Nutritional Benefits of Yoghurts
By Dr Carrie Ruxton, Freelance Dietitian
Vol 5.06: April 23rd 2015
Sarcopenia and diet in older people
By Alison Smith, Prescribing Support Dietitian, Chiltern Clinical Commissioning Group
Vol 5.05: April 16th 2015
by Kate Harrod-Wild, Specialist Paediatric Dietitian, Betsi Cadwaladr University Health Board North Wales
Vol 5.04: March 12th 2015
Dysphagia and nutritional interventions in stroke care
By Louise Dickie, Specialist Stroke Dietitian Imperial College HealthCare Trust
Vol 5.03: February 26th 2015
Dietetic-led management of coeliac disease
By Fiona Moor, Head of Dietetic Services, Royal Derby Hospital
Vol 5.02: January 27th 2015
Improving outcomes by optimising nutrition for preterm infants
by Kate Harrod-Wild, Specialist Paediatric Dietitian, Betsi Cadwaladr University Health Board North Wales

Vol 5.01: January 15th 2015
Encouraging good food choices from an early age
by Jacqui Lowden, Paediatric Dietitian - Team Leader Critical Care, Therapy and Dietetics RMCH
Vol 4.22: November 25th 2014
Tackling Malnutrition in the Elderly
by Helen Willis, apetito and Wiltshire Farm Foods Dietitian

Vol 4.21: November 11th 2014
by Dr Mabel Blades, Independent Freelance Dietitian and Nutritionist

Vol 4.20: October 21st 2014
Paediatric HETF: supporting parents and carers
by Emma Coates, Senior Paediatric Dietitian, Wrexham Maelor Hospital, Betsi Cadwaladr University Health Board, North Wales
Vol 4.19: October 9th 2014
Living with PKU: the teenage years
by Emma Coates, Senior Paediatric Dietitian, Wrexham Maelor Hospital, Betsi Cadwaladr University Health Board, North Wales
Vol 4.18: September 30th 2014
Diet and Alzheimer's disease
by Dr Mabel Blades, Independent Freelance Dietitian and Nutritionist
Vol 4.17: September 11th 2014
Paediatric food allergy
By Kate Harrod-Wild, Specialist Paediatric Dietitian, Betsi Cadwaladr University Health Board

Vol 4.16: September 4th 2014
Dysphagia management and nutrition support in a teenage boy with Ataxia telangiectasia
By Emma Coates, Senior Paediatric Dietitian, Wrexham Maelor Hospital, Betsi Cadwaladr University Health Board
Vol 4.15: August 8th 2014
HPN and intravenous fluid therapy
by Dr Kevin Page, Associate Specialist in Chemical Pathology, Sheffield Teaching Hospitals NHS Foundation Trust
Vol 4.14: July 22nd 2014
Childhood obesity: why dietitians need to see the bigger picture
by Emma Coates, Paediatric Dietitian, Wrexham Maelor Hospital, Betsi Cadwaladr University Health Board, North Wales
Vol 4.13: July 3rd 2014
Malnutrition
by Mabel Blades, Independent Dietitian and Nutritionist
Vol 4.12: June 26th 2014
Early years nutrition
by Kate Harrod-Wild, Specialist Paediatric Dietitian, Betsi Cadwaladr University Health Board North Wales
Vol 4.11: June 5th 2014
The gut microbiota and gut health: a probiotic perspective
By Linda Thomas, Science Director and Naomi Johnson, Senior Science Officer, both at Yakult UK Ltd

Vol 4.10: May 20th 2014
by Kate Harrod-Wild, Specialist Paediatric Dietitian, Betsi Cadwaladr University Health Board North Wales

Vol 4.09: May 6th 2014
Managing antibiotic associated and clostridium difficile associated diarrhoea with probiotics
by Alison Burton-Shepherd PGCAP(ed) FHEA R Nutr BSc (Hons) MSc RGN TCH Queens Nurse
Vol 4.08: April 22nd 2014
Chronic kidney disease: a problem for us all
By Jan Flint, Clinical Lead, Renal Dietitian, Royal Free London NHS Foundation Trust
Vol 4.07: April 10th 2014
Crohn's and colitis: clinical presentation and medical management
By Arash Assadsangabi, Specialist Registrar in Gastroenterology and Dr Mark McAlindon, Consultant Gastroenterologist, both at the Royal Hallamshire Hospital, Sheffield Teaching Hospitals NHS Foundation Trust
Vol 4.06: March 27th 2014
Dietary fibre role in gluten intolerance
For a full list of the authors and their biogs, please visit: biomedcentral.com/2046-1682/5/10
Vol 4.05: March 13th 2014
Treating IBS in practice
by Nigel Denby, RD, Dietitian and founder of Early Years nutrition site www.grub4life.org.uk

Vol 4.04: March 6th 2014
The 'Measuring Up' Obesity Report: opportunities for dietitians to take the lead
by Dr Hilda Mulrooney, Registered Dietitian and Nutritionist, Kingston University and Committee Member of DOM UK

Vol 4.03: February 11th 2014
Faltering growth: a practical guide
by Emma Coates, Paediatric Dietitian, Wrexham Maelor Hospital, Betsi Cadwaladr University Health Board, Wrexham, North Wales
Vol 4.02: February 4th 2014
Omega-3s for older adults
by Carrie Ruxton, Freelance Dietitian, Nutrition Communications and Emma Derbyshire, Nutrition Lecturer
Vol 4.01: January 16th 2014
Compliance with NPSA Dysphagia Diet Texture Descriptors
by Elizabeth Barnett, Speech and Language Therapy Team Lead, Community Older Adult Team, Sheffield Teaching Hospitals Foundation Trust
Vol 3.23: December 18th 2013
Infant weaning: current controversies and issues
by Kate Harrod-Wild, Specialist Paediatric Dietitian, Betsi Cadwaladr University Health Board North Wales
Vol 3.22: November 21st 2013
Omega-3 fatty acids in health and disease: the science behind the headlines
by Philip C Calder, Professor of Nutritional Immunology, University of Southampton
Vol 3.21: November 7th 2013
Lactose intolerance
by Kate Harrod-Wild, Specialist Paediatric Dietitian, Betsi Cadwaladr, University Health Board, Wales
Vol 3.20: October 31st 2013
Dietary cholesterol: dispelling the myths
by Alison Burton-Shepherd, PGCAP(ed) FHEA R Nutr BSc (Hons) MSc RGN TCH Queens Nurse
Vol 3.19: October 10th 2013
Allergy and intolerance formulas: counting the cost and getting it right
by Emma Coates, Paediatric Dietitian, Wrexham Maelor Hospital, Betsi Cadwaladr University Health Board, Wrexham, North Wales
Vol 3.18: September 26th 2013
Managing increased diagnosis of coeliac disease through group education
by Clare Oldale, Specialist Dietitian Gastroenterology, Gloucestershire Hospitals NHS Foundation Trust
Vol 3.17: September 12th 2013
Home parenteral nutrition: the role of dietetics within the service
by Kirstine Farrer, Consultant Dietitian Intestinal Failure and
Chris Slater, Senior Dietitian, Intestinal Failure Unit, Salford Royal NHS Foundation Trust
Vol 3.16: August 29th 2013
Childhood obesity: why dietitians need to see the bigger picture
by Emma Coates, Senior Paediatric Dietitian, Wrexham Maelor Hospital, Betsi Cadwaladr University Health Board, North Wales
Vol 3.15: August 16th 2013
Malnutrition: Rapid spread methodology
by Caroline McNicholas, Diabetes Manager and Diabetes Specialist Dietitian
Vol 3.14: August 1st 2013
Dysphagia and texture modification
by Kattya Mayre-Chilton, Specialist Catering Dietitian
Vol 3.13: July 18th 2013
Managing obesity using a behavioural approach
by Maria Dow, Freelance Dietitian and Counterweight Practitioner
Vol 3.12: July 4th 2013
Nutritional influences on gut health
by Alison Burton-Shepherd, PGCAP(ed) FHEA R Nutr BSc (Hons) MSc RGN TCH Queens Nurse
Vol 3.11: June 6th 2013
Follow-on formula - a useful step forward in the management of iron deficiency anaemia?
by Emma Coates, Senior Paediatric Dietitian, Wrexham Maelor Hospital, North Wales
Vol 3.10: May 23rd 2013
Clinical nutrition in care homes
by Cathy Forbes & Vittoria Romano, Dietitians, South Essex Partnership, University NHD FT
Vol 3.09: May 9th 2013
Does an unhealthy diet cause inflammatory bowel disease?
by Julie Thompson, Specialist Dietitian, The IBS Network and NHS Dietitian
Vol 3.08: April 25th 2013
Maternal obesity: managing the risks of eating for two or more
by Emma Coates, Senior Paediatric Dietitian, Wrexham Maelor Hospital North Wales
Vol 3.07: April 11th 2013
PKU dietetic management in children
by Sharan Lowry and Lucy White, Paediatric Metabolic Dietitians, Sheffiled Children's NHS Foundation Trust
Vol 3.06: March 28th 2013
Nasogastric tubes
by Alison Smith, Specialist Dietitian, Peterborough Community Services
Vol 3.05: March 14th 2013
Back to basics: an overview of preterm feeding
by Emma Coates, Senior Paediatric Dietitian, Wrexham Maelor Hospital, North Wales
Vol 3.04: February 28th 2013
Crohn's disease and dietary treatment: where are we now?
by Julie Thompson, Specialist Dietitian, The IBS Network and NHS Dietitian
Vol: 3.03: February 14th 2013
Nutritional management of patients with chronic obstructive pulmonary disease
by Elizabeth Weekes, Consultant Dietitian and Research Lead, Department of Nutrition & Dietetics, Guy's & St Thomas' NHS Foundation Trust
Vol: 3.02: January 31st 2013
Dairy free in the management of irritable bowel syndrome
by Sasha Watkins, Dietitian, The Food Coach Ltd, London
Vol 3.01: January 17th 2013
Specialist formulas: which one is the right tool for the job?
Emma Coates, Senior Paediatric Dietitian, Wrexham Maelor Hospital, North Wales
Vol 2.10: December 13th 2012
Meal replacement programme for Type 2 diabetes: the Sheffield experience
Nicola J Scott, Specialist Diabetes Dietitian, Sheffield Teaching Hospitals NHS Foundation Trust
Vol 2.9: November 29th 2012
Omega-3 fatty acids and health
by Dr Carrie Ruxton PhD, RD, Freelance Dietitian
Vol 2.8: November 15th 2012
Malnutrition in older patients: redesigning the food and nutrition service
by Paula Moynihan, Registered Dietitian, Institute for Ageing and Health, Newcastle University
Vol 2.7: October 25th 2012
Dietetic outcomes in home parenteral nutrition
by Dr Alison Culkin, Research Dietitian, St Mark's Hospital
Vol 2.6: October 11th 2012
The safety of MCT based formula in the dietary treatment of long chain fatty acid disorders
by Dr Anita MacDonald, Consultant Dietitian in IMD, with S Evans, Anne Daly and Catherine Ashmore, Specialist Dietitians in Paediatric IMD, Birmingham Children's Hospital
Vol 2.5: September 27th 2012
Dysphagia: the new diet food texture modified descriptors
by Sue Pownall, Speech and Language Therapy Team Leader, Sheffield Teaching Hospitals NHS Foundation Trust
Vol 2.4: September 6th 2012
Reasoning and undertaking of Percutaneous Image Guided Gastrostomies (PIGGS)
by Owen Dickinson, Radiological Interventional Nurse, Sheffield Teaching Hospitals NHS Foundation Trust
Vol 2.3: August 2nd 2012
Obesity management: early years
by Nigel Denby, Dietitian and Founder of Early Years nutrition site www.grub4life.org.uk
Vol 2.2: July 19th 2012
Paediatric food allergy
by Sarah Heath, Specialist Paediatric Allergy Dietitian, King's College Hospital, London
Vol 2.1: July 5th 2012
Malnutrition in the community
by Gail Bright and Jennifer Marsh, Community Nutrition Support Dietitians, East Sussex Healthcare NHS Trust
Vol 2.0: June 21st 2012
Adherence to a gluten-free diet in adult coeliac disease
by Helen Flaherty, PhD Student, Faculty of Medicine & Health Sciences, University of East Anglia
Vol 1.9: June 14th 2012
Faltering growth
by Jacqueline Lowdon, Paediatric Dietitian, Manchester Children's Hospital
Vol 1.8: May 24th 2012
Infant cows' milk allergy and intolerance
by Kate Grimshaw, Senior Lecturer/Research Fellow
Vol 1.7: May 10th 2012
Nutritional and supportive care in head and neck oncology patients
by Ashley Kingsnorth, Clinical Lead, Advanced Specialist Oncology Dietitian, Barnsley Hospital NHS Foundation Trust
Vol 1.6: April 26th 2012
Paediatric food allergy: successful management
by Tanya Wright, Highly Specialised Registered Dietitian and Author
Vol 1.5: April 12th 2012
Spinal cord injury: a practical guide to nutritional management
by Carolyn Taylor, Specialist Dietitian for spinal cord injuries, Sheffield Teaching Hospitals
Vol 1.4: March 29th 2012
Dysphagia product update
by Alison Smith, Specialist Dietitian, Peterborough Community Services
Vol 1.3: March 15th 2012
The weighty issue of liver disease
by Professor Chris Day, The British Liver Trust
Vol 1.2: February 16th 2012
Is there a role for follow-on formula in infant feeding?
by Kate Harrod-Wild, Specialist Paediatric Dietitian
Vol 1.1: February 2nd 2012
IBS and the low FODMAP diet
by Heidi Staudacher RD and Dr Miranda Lomer RD
Paediatric coeliac disease and the gluten-free diet